Reclaiming VAT opens up huge savings potential, especially when all foreign-incurred VAT is reclaimed. In 2016, the EU paid back over 153 trillion euros in VAT to businesses. However, 17% of businesses surveyed do not reclaim their VAT. How is it that successful companies voluntarily give away capital? Why are such large amounts simply lost?
The answer that surveys reveal is shockingly simple: "The process is too complicated". Reclaiming VAT, especially abroad, is complex, lengthy and often completely manual.
The tasks for reclaiming are also numerous: finding (foreign) receipts, filing them correctly, recognizing the VAT on them and posting them manually. Apart from that, it requires in-depth knowledge of the multitude of rules and the even larger amount of exceptions.
It is therefore not surprising that many companies forego VAT refunds. This is especially common when companies operate in multiple countries with different tax regulations.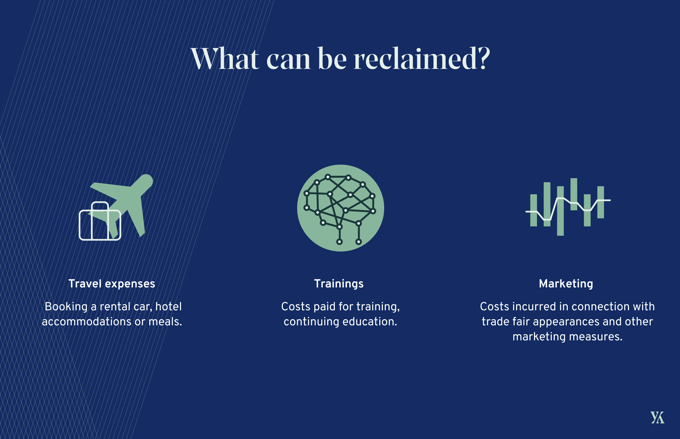 The Corona virus and the disruption it caused to international business travel may have temporarily alleviated the problem. But finance teams will not be able to avoid the issue of VAT for long.
Yet the arduous task can be accomplished without additional work: Yokoy, together with partners, can provide a fully automated solution in VAT recovery.
Yokoy processes all VAT rates, regardless of the country in which the receipt or invoice was issued. The software can rely on the methods of artificial intelligence to do this. In a second step, the digitized receipts are then compared with the regulations in force. Finally, the accounting journal is included. In the process, all relevant data is forwarded to the ERP system or it is automatically transmitted to a third-party provider such as VAT IT, Cashback, Way2VAT or Taxback International.
This way, a company no longer misses an opportunity to reclaim VAT. All steps can be automated, no man-hour is wasted unnecessarily.
Use your resources more efficiently and don't miss a single VAT reclaim with Yokoy. Contact us now for more information!