Many small businesses, startups and self-employed individuals have reached out to us in the past few months and have asked for an integration with bexio, a leading Swiss cloud-based accounting solution. Great news: We've heard you and we used the time during Corona to build a direct integration between Yokoy and bexio. Since today, Yokoy is available on the bexio marketplace.
Bexio provides automation for multiple bookkeeping and accounting tasks for its 30'000 customers and belongs to the go-to accounting solutions for Swiss SMEs and self-employed workers. Yokoy is proud to announce the partnership with bexio today in order to provide our solution also to small businesses.
How do I connect my bexio account with Yokoy?
In order to get started as a bexio customer with Yokoy, just go to the marketplace, click on "add app", fill in your details and we will reach out to you within minutes. Once everything is set up, you will never want to go back in time! Take a photo of your receipt and the artificial intelligence of Yokoy creates the complete expense report in a few seconds up to the correct posting in bexio. The time of having paper receipts piling up is finally over!
Benefit from the free Yokoy Mastercard
Included in the bexio package, we offer you our free Yokoy Business Prepaid Debit card. This allows us to give you the smoothness you always wished for: We automatically link the receipts to the transactions and post them correctly in bexio (and inform you of any missing receipts). This means you no longer need to manually reconcile and post the monthly invoices. Find more information about our Yokoy Mastercard on our product page.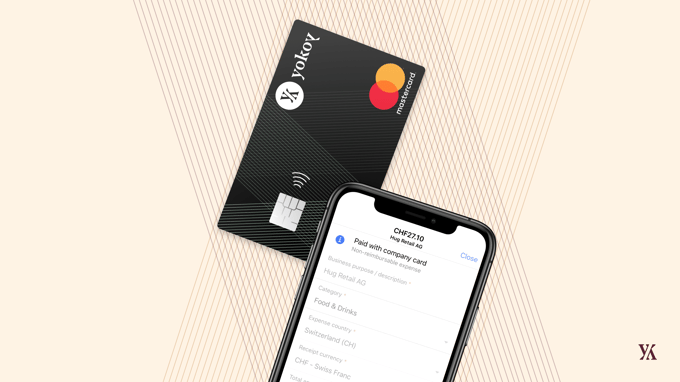 What if I have individual expense rules?
No problem! You can even create individual expense regulations and limits of your employees - including warnings. Both the mobile application (iOS & Android) and the web application (desktop) are intuitive and therefore immediately understandable for all users.
Do I have to pay per expense?
No! The licence is per user, regardless of how many expenses and documents you upload. With Yokoy there are no hidden costs!
Do I still need to keep my paper receipts for audit purposes?
With Yokoy, you don't need to keep paper receipts anymore. Yokoy ensures that the requirements of electronic archiving, as required by the Swiss Federal Tax Administration (EStV), are met. This applies to both small and medium-sized as well as large companies. The central point here is that all steps from data entry (file upload / photo / input), the approval process (hierarchical and financial) to the financial posting of the corresponding expense receipt are fully documented. This is done by means of an "audit log", the possibility of unambiguous identification of an expense receipt (expense ID) and an archive that can be called up at any time and stores the receipts for 10 years in an unalterable form. This ensures that not only the company, its internal and external accountants and other stakeholders, but also the tax authorities and auditors can be provided with a complete audit log that can easily trace every step.
What are you waiting for? Put your expenses on autopilot today!