TravelPerk is a next-generation business travel booking and management platform for companies of all sizes. With this partnership, Yokoy's expense management solution together with its fully-integrated Yokoy company credit card can now automatically retrieve your travel invoices and book them into your finance system. The integration has been a long-requested feature by our clients. And it is finally here!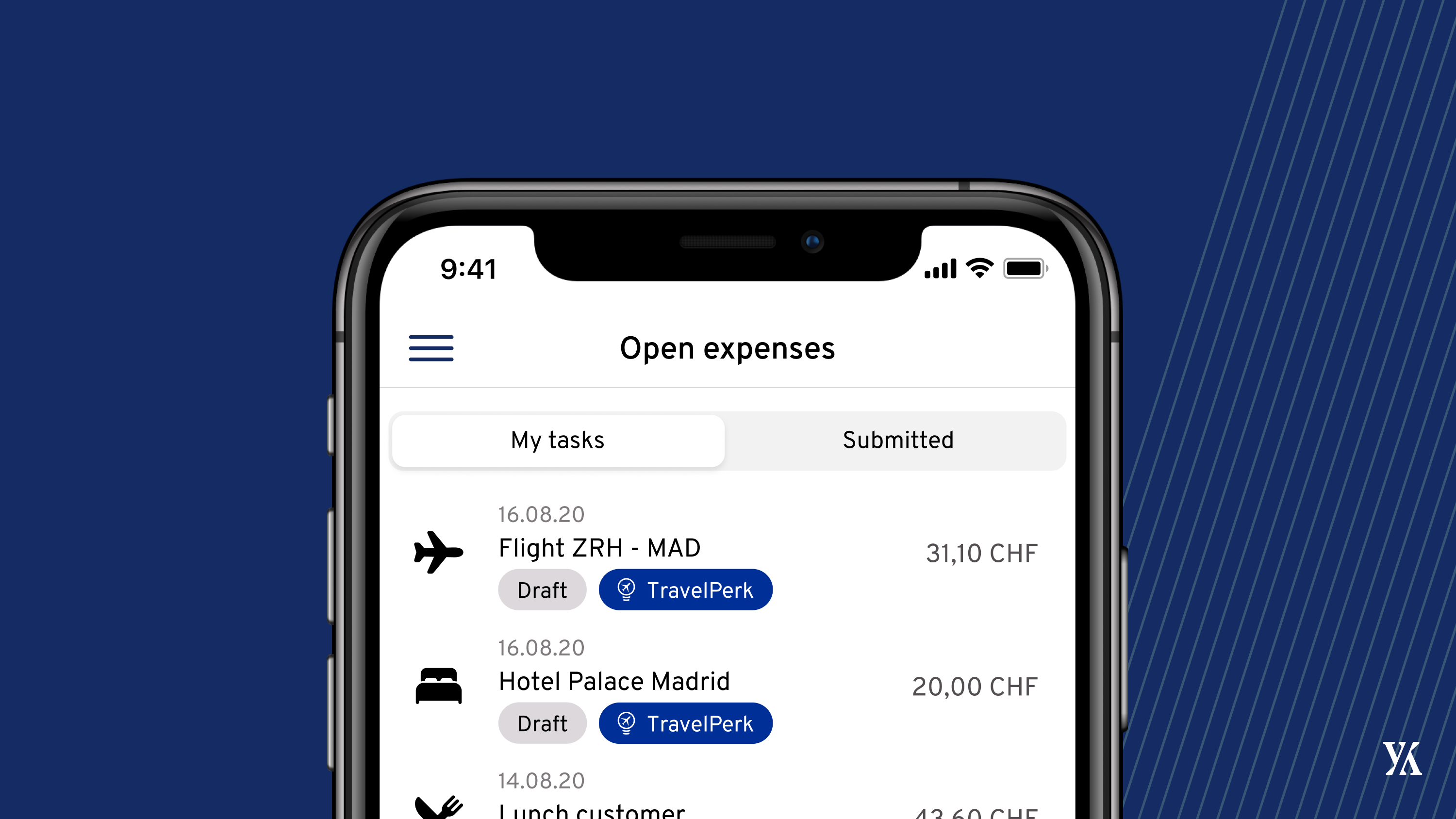 TravelPerk and Yokoy have one main thing in common: We both want to make the lives of business people easier by making internal processes like traveling, spending and expense management smoother and more automated.
Say goodbye to manual expense reports
Ask anyone about leisure travel booking and you'll see them smile. Ask anyone about business travel booking and you'll hear how it's a nightmare. It is TravelPerk's mission to change that, making business travelers happy, and we're thrilled to play a part in it! Having a smooth integration into TravelPerk was a long-requested feature by our clients, therefore we're thrilled to finally offer it to all our customers.
What value do you get when you use the TravelPerk-Yokoy-integration?
The TravelPerk integration is a crucial one as this API-based integration makes the lives of all travelers, managers, travel teams and the Finance/HR teams so much easier. All travel data is automatically imported into Yokoy, giving you the following benefits:
Automated expense matching
Auto-reconciliation of TravelPerk invoices with uploaded receipts.
Correct finance booking
TravelPerk data is automatically imported into Yokoy, where they get enriched with accounting information such as the expense account in order to export and post an accounting journal automatically into the ERP system.
Advanced analytics
Have all your travel-, expense- and company card costs in one place. Gain business insights and control your spendings using the advanced Yokoy Analytics Dashboard.
Global accounting
No matter where your business travel takes you, we got your back with the right conversion, translation and automatic VAT read-out and processing.
How can you enable Travelperk in Yokoy?
The TravelPerk integration can be activated by Yokoy customers in a few seconds. As an admin user, just go to the admin panel in Yokoy, select Travelperk and authorize your Travelperk account - where you also need to be logged in as an admin user. Every customer can define how TravelPerk data is processed in Yokoy. It is also possible to configure a travel admin team in Yokoy, which administers all travel data before they go to the finance team.
"Our clients are continuously looking for ways to integrate their platforms to create seamless experiences for their employees and we're happy to deliver this end-to-end Travel and Expense solution with Yokoy. Yokoy mirrors the TravelPerk belief in the importance of ecosystems, whilst being fast & agile to develop against our API, making them a natural partner for TravelPerk!"

Kelly Jewison - Head of Product Partnerships, TravelPerk
Prepare for your future travels in the wake of COVID-19
The Corona Crisis has not left out any economic sectors, and SMEs have been undoubtedly strongly affected as well. While companies that were already driving the digital transformation before the pandemic have benefited greatly from it, others were forced to catch up, often at great expense, within a few weeks. To whatever cohort you belong to: Corona has forced us to do everything remotely. With distributed teams and low possibility to simply bring the receipts to the office next door, this is (inevitably) an opportunity to use this situation as a chance to rethink internal processes and prepare for your future business travels after Corona. TravelPerk has spent the year analyzing customer needs, and as a result, future-proofed the product based on informed predictions about business travel in the new normal. They have focused on increasing flexibility with FlexiPerk, providing access to live Covid-19 restrictions through the TravelSafe & TravelCare API, and optimizing savings with the brand new VAT Recovery Solution. All combined to create a travel platform ready to meet the ever-changing demands of travelers.
Check out our page for more details on TravelPerk and Yokoy's integration!