Yesterday, the fifth episode of the Swiss edition of Shark Tank "Die Höhle der Löwen" was broadcast on TV24. Our FinTech Startup Yokoy was also part of the show as Expense Robot. We were spoilt for choice, because all five investors wanted to invest in us. In the end, we decided to go with the entrepreneur and angel investor Tobias Reichmuth.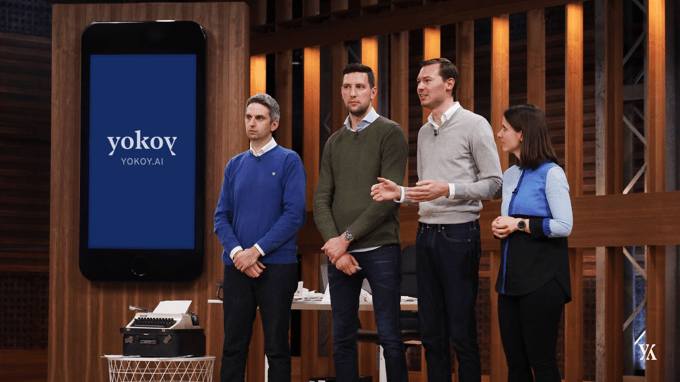 From left to right, four of the five founders of Yokoy: Thomas Inhelder (CFO), Lars Mangelsdorf (CCO), Philippe Sahli (CEO), Melanie Gabriel (CMO). Photo: CH Media

Our startup Yokoy was among the founders who were hoping to get an investment from at least one of the lions Anja Graf, Bettina Hein, Antoine Konrad alias DJ Antoine, Roland Brack and Tobias Reichmuth in yesterday's episode of the founders' show "Die Höhlen der Löwen".
The show was already shot in spring (even before Corona) - since then a lot has changed: Back then we appeared as Expense Robot, meanwhile our company is called Yokoy. In addition, we now also have our own company credit card in our product portfolio, which we offer together with Hypothekarbank Lenzburg.
All five investors wanted to invest in Yokoy
After we founders were put through their paces, the super coup occurred: all five Lions wanted to invest in us. Anja Graf offered 500'000 for 10% shares, Bettina Hein together with Roland Brack offered the same amount but wanted 15% of the company. Tobias Reichmuth offered 250'000 CHF for 5% shares. Last but not least Antoine Konrad offered 250'000 CHF but also wanted 10%. In return he offered to act as brand ambassador for Yokoy in case of a successful investment.
We four founders retreated briefly to discuss this range of offers and decided on Tobias Reichmuth. We had the privilege of being spoilt for choice, but in the end we chose Tobias Reichmuth because we expected a lot from his large network and his experience with SUSI Partners.
At that time, nobody knew that we would be making a much bigger round in the weeks to come than originally planned. So shortly after "Die Höhle der Löwen" was taken, we were able to win Swisscom Ventures and the SIX Group over as lead-investors and secure seed financing of CHF 1.7 million.
We would have loved to have had Tobias Reichmuth on board, but suddenly the situation was different. Should we consider another financing round, we would certainly contact Tobias again, as we are still convinced that he would be a great fit for us as an investor.

What happens after the show with Yokoy?
After the show, our CEO and co-founder had the pleasure to sit down with Sabine Oestland from UPC Business and reflect on our involvement in "Die Höhle der Löwen" and the next steps. Take a look at what came out of it and what Daniel Düsentrieb has to do with it all.
Did you miss the show?
Under the following link you can watch Yokoy alias Expense Robot on TV24 in "Die Höhle der Löwen".